Traveler Jo
"Life is made up of small pleasures. Happiness is made up of those tiny successes. The big ones come too infrequently. And if you don't collect all these tiny successes, the big ones don't really mean anything" - Norman Lear
Chef Theo started the day explaining that this Twitter space was created to promote decentralization in the Cardano ecosystem by educating about its benefits and also giving the community a clearer picture of what life of a stake pool operator is like. Everyone in the community is responsible for decentralization. We all should study Catalyst, make suggestions and vote. And we must be aware of the status of our stake pools. For example there are still over 20 million ADA in retired MELD pools.
The first guest was Kyle from Fat Matt Staking. Kyle and his friend Matt operate the pool and, to keep things manageable, they split up the pool responsibilities. Kyle handles the digital media and Matt works on local community events. They saw an opportunity in the March of 2021 cryptocurrency crash and then tuned in to the Charles white board video. They started staking with Smaug and later opened a pool to help with the decentralization of Cardano. Then they created the Fat Matt charity fund which receives 34 percent of monthly profits. The staking rewards from that pool are paid out monthly to a charity the delegators choose. Past charities have included Wounded Warriors and the Boys and Girls Club. While Kyle feels that Cardano is on the right path to decentralization, he also knows there is work to be done. Specifically Daedalus rankings inaccurately favor large multipools and should be updated to provide a clearer picture. There is much coming in 2022 for this pool. In addition to their charity work, and running the pool, Kyle is involved in two NFT projects: Cardano Kombat project and ADAs Aces, which focuses on planes.
The next guests were from ANEW Pool, a brother, sister and friend with ties to Africa. Comozo was born in Niger and has an IT background; Raissa in marketing; Seb in a variety of entrepreneurial enterprises. Because the three are spread out geographically they are always working for delegators, twenty four hours a day. They became interested in crypto as a way to build a new financial system and fight corruption. Later they started a stakepool to see how things worked from the ground up. Then they noticed announcements about Cardano Africa initiatives which encouraged them to focus on Africa. They want to give back to Africa to empower and create opportunities for African women because they believe that investing in women helps society the most. They want to complement the Charles IOHK Cardano initiatives, which work from the top down, with their own initiatives which use kiva loans at a local level for a bottom up approach. Kiva is a platform that allows individuals to issue small loans, starting at 25.00, to a variety of locations or causes. Imagine the power of $25.00 USD in the developing world loaned over and over again. 50 percent of ANEW pool revenue is donated to charity. They would like to see fairer distribution of ADA among pools and want to reach 1 million ADA delegation to more regularly produce blocks.
The next guest was from Peak Pool. Mark from the UK, near Manchester, has over twenty years of software / hardware experience . Peak pool was founded almost one year ago with a 2 percent margin and a ten thousand ADA pledge. Mark's interest in Cardano started as an investment, then he became involved in the community and wanted to learn the technology. Creating an SPO seemed to be the way to do so. He continues to want to be part of the growth in the community. While he's still getting used to internet marketing he loves the community for its open, sharing nature. Peak pool is focused on youth charities Barnardo's in the UK for homeless children, Compassion for Children and Operation Christmas Child. While generally he feels we are on the right path to decentralization, daedalus rankings are unclear and can mislead people new to the Cardano ecosystem. He feels there is more work to be done, including education for prospective delegators.
Roam Pool is managed by Quinn and Jason who enjoy a simple, nomadic lifestyle focusing on sustainability. Their interest in cryptocurrency began when it became apparent that the technology allows people who have never met to complete transitions and free themselves from centralized systems. They watched some Youtube Charles videos and were impressed with Charles' empathy and compassion. Because of their commitment to environmental concerns, they like that proof of stake is more environmentally friendly. Roam has a bare metal setup in a safe location with a reliable power grid and UPS backup. They offer the lowest possible fees and also drop unique NFTs to delegators when blocks are minted. They also feel Cardano is still an underdog but it has strong grassroots support. Quinn and Jason started the stakepool because they were ready to move beyond investing and become more involved in the community. They want to use the pool as a catalyst to work with like minded people.
The last stake pool operator to speak was Alfred from Topo Pool. Currently living in Buenos Aires, Alfred is leaving for Peru next week to spread the message of Cardano as there is low awareness of crypto in Peru. In IT his whole life, Alfred feels that Cardano can help address some of the wealth disparities in Latin America. His mission is to help poor people in Argentina and Peru. TOPO pool has relays on three continents and guarantees 99% uptime. In regard to decentralization he has mixed feelings, a few pools are holding too much stake but on the other hand, it's not sustainable to have 5000 pools producing no blocks. He feels that we need a better ranking system that doesn't favor multipools. Also Alfred pointed out that geographic distribution of pools is also important across the globe, not just primarily in Europe and the US where they are today.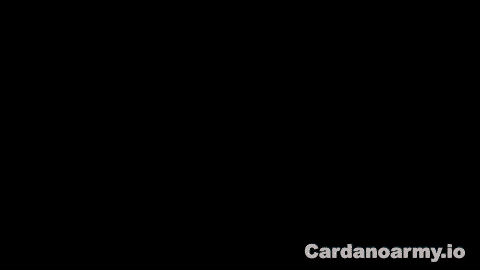 Macroman's Corner
This is a big week in NFT space, perhaps because Dripdropz is now implementing tokens for NFT projects. This opens the door to NFT staking. Also the NFT projects are starting to release games in test. Drunken Dragon games is an example as is The Stellar Hoods. Macro then went on to talk about DAO projects. A DAO is a new way to organize stakeholders in a business. Holding the token gives you voting rights as a stakeholder. Additionally opportunities for secondary royalties will come back to the DAO. This is another way the crypto space is expanding. In focus this week is the Rats DAO, and The Fishbowl Game DAO, Emerald NFT DAO and Acronym DAO which purchase and fractionalize CNFT blue chips like Spacebuds and Claymates. This allows everyone to have an opportunity to own and profit from top tier NFT projects.
By Traveler Jo | CardanoArmy.io
You can find Traveler Jo somewhere close to the sea. She loves Cardano, kayaking and food - not necessarily in that order. She's busy exploring the world, always in the company of her husband, tired dog and indignant felines.